TALBOT GOES PURPLE
Interactive Resource Tool
Understanding substance use disorder treatment
Prior to receiving treatment, a person should get a clinical assessment by a trained professional. This assessment includes a series of questions and determines the best path to wellness.
An assessment may include questions about substance use, medical history, effects of the drug on self/friends/family, and other things. While it may feel awkward, the assessment professional is there to help, and to guide you through the process.
You can contact a treatment provider directly or make an appointment for an assessment with a local clinician. This tool will help guide you through those decisions.
Detoxification – not technically treatment; rather, this is medically supervised withdrawal from substance use and prepares someone for treatment. Detox often involves medications.
Outpatient Care – treatment at a program site while a person lives elsewhere on their own.
Inpatient Care – treatment at a hospital, facility or residential program.
Partial Inpatient
Co-occurring care – treatment for those with substance use disorder and mental illness.
Residential Programs – long-term, campus-based
Telemedicine – care given over the phone/internet.
Medication-Assisted Treatment (MAT) – treatment involving certain medications (buprenorphine, methadone or naltrexone) along with counseling and behavioral therapies.
Support Groups
Here is an infographic from the National Institute on Drug Abuse about medications used in MAT: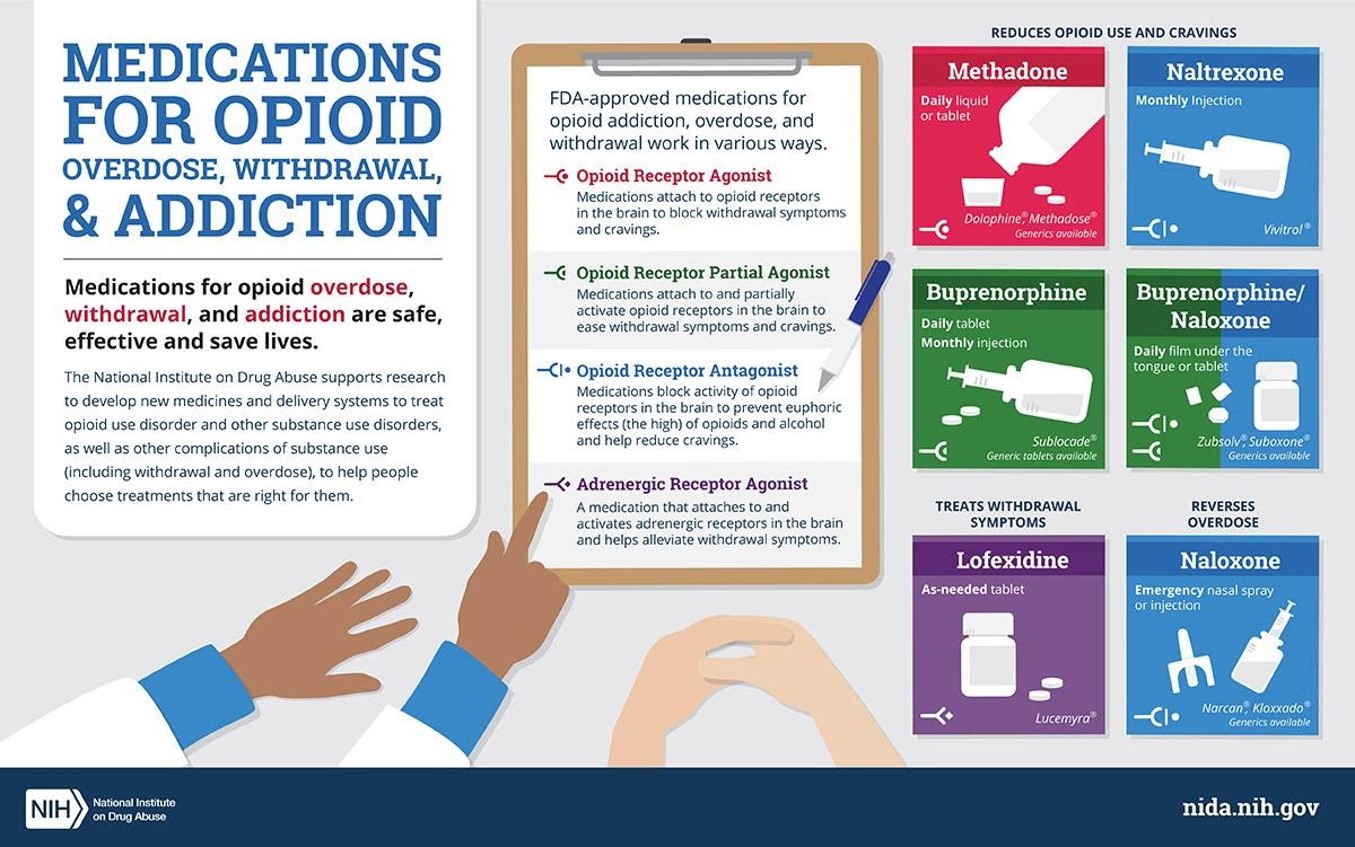 And here is an overview of MAT for teens:
The American Academy of Pediatrics (AAP) has a formal policy statement that endorses the use of medication-assisted treatment (MAT) in adolescents with opioid use disorders.
The statement also cited a shortage of treatment programs that provide MAT to young people.
As with adults, the options for treatment include methadone, buprenorphine (Suboxone) and naltrexone. These medications help relieve cravings and block the effects of opioids.
Here's a snapshot of each option:
Methadone — Federal law prohibits most methadone programs from admitting anyone younger than 18. In some cases, people ages 16 to 18 can get methadone with documentation of at least two failed treatment attempts. Methadone is a liquid taken orally and under close supervision.
Buprenorphine — This is FDA- approved in people ages 16 or older, and doctors who have completed eight hours of training can get a waiver to prescribe it. This is avail- able either as a film that dissolves under the tongue (Suboxone) or tablet (Subutex). The latter causes withdrawal if injected. Sometimes the tablet also includes naloxone. The FDA DOES NOT recommend Suboxone or Subutex for patients younger than 16.
Naltrexone (which also helps reduce alcohol cravings) — any physician can prescribe; has limited potential for abuse or diversion. This comes either as tablets (ReVia or Depade) or a once-monthly shot (Vivitrol). Naltrexone shouldn't be taken if your child has opioids in his/her body as withdrawal will be severe.
It's also important to know that if your child is taking naltrexone, they cannot get high from opioids. Sometime people take large amounts of opioids trying to over- come this block, which can cause overdose or death. And if someone stops taking naltrexone then uses opioids, they are at high risk for overdose or death.
Limited evidence exists on the effectiveness and safety of MAT in teens, according to the AAP. In adults, MAT includes not just medication but also therapy and other support, hence the term, medication-assisted.
To find the best option for your child, first get an assessment with your doctor or another provider.